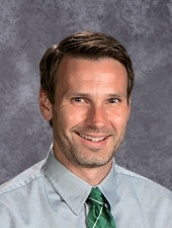 Senior High School
Welcome Stockbridge students, families, and friends, my name is Jeff Trapp, and I am the Senior High School Principal. I am a proud graduate of Michigan State University, where I have earned a bachelor's degree in science and a master's degree in Teaching and Curriculum. I have been a high school science teacher and coach at Stockbridge for over 13 years. I decided to become principal knowing the extraordinary staff that we have and the opportunities for learning that we provide. I am so confident in our district that my wife and I opted to send our two children to Stockbridge Schools through school of choice. I have a vested interest in the success of Stockbridge Senior High School and Stockbridge Community Schools.
At Stockbridge Senior High we offer unique classes for a school of our size. With our innovative block scheduling, students can take eight classes a year, four at a time. Our core curriculum is strong, as evidenced by Advanced Placement courses in English Language, World History, Biology, Physics, Calculus and a new offering in AP Computer Science Principles. Our elective courses offer rigorous opportunities to connect to career paths. From robotics, band, choir, journalism, yearbook, and career and technical programs, our school enriches students across a wide range of interests. We also continue to provide a 1:1 learning environment, giving every student a digital device to foster creativity, critical thinking, communication and collaboration in a digital environment. At SSHS we strive to prepare students for the 21st century workforce.
Junior High School
I am excited to be the principal of Stockbridge Junior High School! It is my goal to help each student reach their full potential. I strive to not only help our students, but to get to know their individual interests, strengths, and challenges.
It has been my privilege to serve the Stockbridge community for 14 years in a variety of capacities such as a counselor, coach and administrator. I began my path in education at Michigan State University where I received my degree in elementary education and taught for two years before finishing my master's degree in school counseling from Central Michigan University. I started my career in Stockbridge as the high school counselor for the first 9 years. I was the high school assistant principal and athletic director for 4 years prior to becoming the junior high principal. I have always been impressed with the support that our schools receive from parents and other community members. I also value the high expectations that our parents have for their students and for the education that they receive during their journey through our schools. Junior high students are at a critical stage in their lives, and they are going through so many changes that each day can be different from the next . I enjoy working with students as they navigate the many transitions, challenges, and joys of this stage of their lives.
We work hard to make sure Junior High students have a solid foundation and a variety of experiences before entering high school. A junior high student has 6 classes throughout the course of the day. Each student has a core academic class in science, mathematics, english and social studies. They also have two exploratory classes each day and up to 8 exploratory classes over the year. The exploratory classes include physical education, health, music, art, Spanish, public speaking, STEM, band and choir. The junior high students benefit by having access to many of the resources that grades 9 to 12 have but are on a different bell schedule and lunch schedule.
I enjoy serving the 7th and 8th grade students that enter our doors, partnering with families, and moving the Junior High forward! Please contact me at any time if you have questions about our programs or want to talk about your child's education.