Welcome to the school nurse page at Stockbridge Community Schools!
Our goal is to support the safety, health and wellness of our students. We believe that a healthy community and staff is a big part of this. Therefore, we also aim to provide students, staff, and community members the opportunity for health education and programs. We hope to be a beneficial resource to students, staff and parents. Please feel free to contact us with any questions, concerns, or health needs.
Get to Know the School Nurses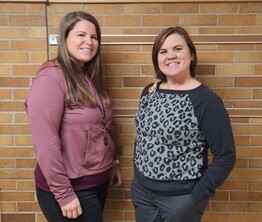 Jennifer Matthews, a Registered Nurse since 2011, has worked as a community nurse for the last eight years. She also has had an active role as a volunteer within the Jackson County foster care system. This included fostering ten children in her home. Jen has a true passion for helping others realize their full potential and helping individuals find their voice in regard to their health and the healthcare system. Jennifer can be found primarily at the Jr/SR High school, but you will see her floating around Smith and Heritage, as she is the district's full-time RN.
Tracie Lentz, a Registered Nurse since 2011, works at the University of Michigan Hospital in the Adult Surgical ICU. Tracie has also worked at Stockbridge Community Schools off and on over the last five years providing nursing support. She has been an active member of the Panther Cubs PTO since 2016 and thrives on seeing the school community flourish. Tracie is employed part-time and is seen mostly at Smith and Heritage schools. She does go to the Jr/Sr High school when needed.
Please notify the school if your student is experiencing an illness or injury that will prevent them from attending school.
Communicable Disease
Communicable disease control is an integral part of school health services. The school follows current public health practices and rules and regulations governing the control and prevention of communicable diseases that are set up by the State and County Health Departments. Please help us by keeping your child at home when the following symptoms appear: coughing, sore throat, runny nose, chills, ear or eye discharge, upset stomach, fever, infected sores, swollen glands, or a contagious rash. If your child becomes ill during school hours, we will notify you. Please be sure we have the correct emergency numbers for your child.
Communicable Diseases

Disease
May Return to School
Approximate Time
Fifth Disease
(Blushing)
May return with rash if no fever or distress
1-3 days
Common Cold
Reduction of cough and runny nose, no feve
1-6 days
Chicken Pox
No new eruptions or fever, may have old dry scabs
1 week
Hepatitis
Doctor permission only
Varies
Impetigo
Doctor permission or clearing of condition
24 hours after first medication
Measels (Rubella)
No rash, fever, red eyes, or red nose
4-10 days
Mumps
No swelling or fever
1-2 weeks
Pink Eye
Doctor permission or clear eyes evident
Varies
Pediculosis-Scabies
Head/Body Lice
Util all lice and nits are gone
1-7 days
Strep Infection
Doctor permission, depends on severity of condition
Varies
COVID-19
Symptom free
5 days
*Students must be fever free and not vomited for 24 hours before returning to school.
*Children and staff diagnosed with certain communicable diseases, including COVID-19 may have to be excluded for a certain period of time.
Illness
In order to protect all children, parents should provide a statement from the attending physician when a child returns to school from a serious illness or injury that indicates:
The exact nature of illness or injury.

The child's present physical, mental, and emotional state.

Specific special needs for the child (i.e., special seating, rest periods, safety precautions).

Limitations for physical and mental activities.
Injuries
Students, teachers, and supervisors are asked to report all school and playground accidents to the office. When necessary, an accident report is completed. Any time the office is informed of a serious injury, the office will notify the parents/guardians.
Head/Body lice
Head lice is a common condition which can be transmitted among people especially among children whose hats and jackets are close together. Itching or scratching may be a sign of lice, but sometimes there are no signs until you look closely. Until a child is lice and nit free, they may not ride the bus or attend school. A check will be required in the main office when the child returns.
COVID-19
COVID-19 testing is available upon request. Please contact the school nurse for testing needs.
According to the Department of Health and Human Services regulations, all students must meet the immunization requirements set by the State of Michigan for attendance at school in order to enroll or attend.
There are three circumstances in which a required vaccination may be waived or delayed:
A valid medical contraindication exists to receive the vaccine. The child's physician must certify the contraindication in writing.
The parents hold religious or philosophical beliefs against receiving a vaccination. Completion of the non medical waiver process through your local health department is required.
The child has received at least one dose of each immunizing agent and the next dose(s) are not due yet.
For more information about immunizations contact your local health department.
Ingham County Community Mental Health
812 Jolly Rd Lansing MI 48910
517-346-8200
Jackson County Community Mental Health, Lifeways
1200 N W Ave Jackson MI 49202
1-800-284-8288
Livingston County Community Mental Health Services
2280 E Grand River Ave, Howell MI 48843
517-546-4126
Washtenaw County Community Mental Health
555 Towner Ypsilanti, MI 48198
734-544-3035
Each year school staff must be notified of a student's health concern or chronic condition. It is important to do this so staff is prepared to meet the needs of your child in the event of an emergency. Asthma, allergies, diabetes, or seizures may require your child to have medications at school for his/her safety. Your child will need the appropriate forms below to be filled out by both the parent/guardian and your child's healthcare provider (for prescription medications) before school staff is able to medicate your child.
If your child has any special health needs other than the above conditions, please contact the School Nurse to discuss an Individualized Health Plan. At that time, we can discuss accommodations, doctor's orders and staff training.
Medication includes prescription, non-prescription, and herbal medications, and includes those taken by mouth, by inhaler, those that are injectable, and those applied as drops to the eyes, nose, or medication applied to the skin.
Prescribed Medication Form
The Prescribed Medication Form is required when there is ANY prescription medication that will be on school property. This form needs to be completed in its entirety and signed by both parent/guardian and child's healthcare provider before giving it to your child's building secretary with any medication.
Over the Counter Medication Form
The Over the Counter Medication Form is required for ANY over the counter medication on school property. This form must be completed in its entirety and signed by the parent/guardian before providing to your child's building secretary with any medication.
Any necessary provided at school should be delivered by a parent or guardian. Please do not send any medication to school with your student.
New Forms must be completed each and every year.
Contact the School Nurse with any questions or concerns.
Mental Wellness is as important as physical wellness. The school nurse, school counselors, school social workers, and school psychologists are all good resources should your student need mental health assistance. Below is information regarding local resources for mental health assistance as well. Please contact your school nurse with any questions or concerns.
Ingham County Community Mental Health
812 Jolly Rd Lansing MI 48910
517-346-8200
Jackson County Community Mental Health, Lifeways
1200 N W Ave Jackson MI 49202
1-800-284-8288
Livingston County Community Mental Health Services
2280 E Grand River Ave, Howell MI 48843
517-546-4126
Washtenaw County Community Mental Health
555 Towner Ypsilanti, MI 48198
734-544-3035
The National Suicide Prevention Lifeline is a national network of local crisis centers that provides free and confidential emotional support to people in suicidal crisis or emotional distress 24 hours a day, 7 days a week.
Text or Call 988
Smiles on Wheels visits the district twice per year to provide dental care at no cost. Parents will receive notification when Smiles on Wheels is scheduled to be in the district.
The Ingham County Health Department provides vision and hearing screening services to all children residing in its area at no cost. The Health Department visits the school periodically throughout the year for vision and hearing screenings.
If you or your student needs medical insurance, there is help. Apply for benefits at State Health Insurance Plans.
Find great information on playing sports safely. You will also find sports physical forms and concussion information at MHSAA - Michigan High School Athletic Association.
Learn More About

Asthma

Seizure

Diabetes

Allergies and Anaphylaxis
Please reach out to your school nurse if additional health and wellness resources are needed.